February 2007 - Feeding and Dining
Main Content
Family Resources: February 2007
One of the of the aims of the TRIS project is to raise awareness of rare trisomy conditions and the variety of situations and concerns families encounter. This page is intended to share resources that families can use in their daily lives.
We are now archiving previous months' Family Resources pages.
Feeding and Dining
To make mealtimes easier for you and your child, TRIS has complied feeding and dining information for this month's Family Resources. Manufacturers such as Sammons Prestonand Beyond Play offer great utensil alternatives, food catchers, cups, and scoop bowls.
---

Angled utensils promote greater success with hand-to-mouth feeding and are ideally shaped for small hands. EasieEaters Curved Utensils are available from Beyond Play and are offered with or without safety shields. The shields are intended to prevent the spoon or fork from going too far back into the child's mouth. Spoon and fork sets are available for right or left hands for $7.50. Pediatric Flexible Utensils have foam handles which can be customized to fit a child's grasp and skill level. Forks and spoons are available from Sammons Preston for $10.49 each. Another option is a utensil holder which assists children to grip the utensil and promote independent feeding. Different models are available from Sammons Preston ranging from $12-$29.00.
---
Food Catchers are also helpful at meal time. Alternative bibs can help save your child's clothing and furniture from stains.
Some are made from terry cloth and come in different sizes ranging from standard to jumbo. A package of three is available from Sammons Preston for $21.95. Waterproof bibs are also available in different colors and designs. Beyond Play offers a waterproof bib with sleeves for $19.95 which is machine washable. If you are looking for something that you can dispose of after every meal, you can buy a pack of 50 plastic food catchers on EBay for $15.00.
If you have the materials and time to make your own bibs, consider using old towels and bandanas. Clothes and fabric scraps are also great alternatives to store-bought bibs and food catchers.
---

There are many modifications to drinking cups on the market. The Flexi Cut Cup comes in three sizes and promotes drinking without neck extension. Prices range from $7.95-10.50 and ordering information can be found at Beyond Play. If a cup with a lid is what you are looking for, try the Feeding Cup or the Wonder-Flo Cup both from Sammons Preston each under $10.00. Many children use straws and it is important to find the one to fit your child's needs. Sammons Preston offers Reusable Drinking Straws which are 18`` long and come in flexible polyethylene or rigid Plexiglas. Both styles are latex free. Prices range from $7.95 to 17.95.
---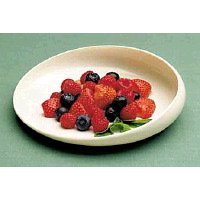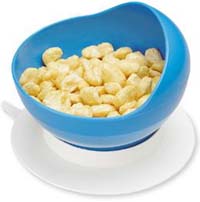 Scoop bowls and plates are also useful for feeding because the "inner wall" and built in guard facilitates one-handed eating when pushing food onto spoons or forks. A basic scooper bowl can be purchased for under $10.00 from Colonial Medical Assisted Devices. If you are looking for a larger dish, try the Melamine Scoop Dish available on Amazon.
---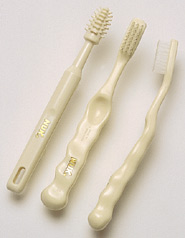 Oral Stimulation. Although your child may be tube fed, it is important to include your child during mealtime. The smells and sounds of this time are very important, and if possible tasting foods or oral stimulation exercises are important to encourage. Wide Smiles includes a list of oral motor exercises for your children's oral muscles for speech and other developmental skills. You may also purchase oral stimulation tools from Equipment Shop. Items such as the NUK Massager or Chewy Tubes are also helpful for oral stimulation.